In rural Pap-Onditi, there is no electricity in most homes. Light needed to do household chores comes from small kerosene-fueled lamps. Children struggle to study in the evenings. Many suffer from burns, eye irritation and respiratory illness from the smoke.
In 2015, I-KODI initiated a partnership with the All About the Light Foundation, to provide Luci Lights to the students at the Konditi Primary School.
Created by a company called MPOWERD, Luci Lights are small, inflatable solar-powered lights that can last for up to 10 years and provide a safe and renewable source of light.
We distributed lights to all students in 6-8th Grades to help them study at night and prepare for their national exams. We provided training in the care and maintenance of the lights and made plans to monitor the progress of the students at the school.
A year later, we returned with David Middleton, the founder of AATL, to check on the students and see how the lights had affected their lives. We gathered stories and visited homes. We checked the condition of the lights and learned what we needed to do to improve the program.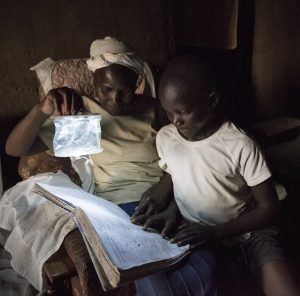 We were moved by personal stories like that of Gideon Owour, a 7th Grader at the Konditi School. We learned that the students had increased their grades over the course of the year, and had many personal experiences that spoke to the positive change in their lives.
For a glimpse into what a single Luci Light can do, please visit Gideon's Story.
We invite you to join us in this program, to provide a light to a student, a family or a community member.
By clicking Donate Now, you will be directed to a secure online donation page managed by The Hitchcock Foundation, the fiscal agent for I-KODI.
Simply fill in your name, the amount of your donation and indicate "I-KODI" as the name of  the program. 100% of your donation will be directed to I-KODI. Secure payment can then be made by PayPal as directed.
All donations will be processed through the Hitchcock Foundation and are tax deductible to the extent allowed by law. Please feel free to contact us with any questions.
Your generosity is deeply appreciated.