I-KODI USA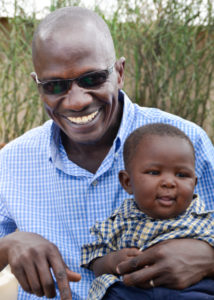 Daniel Ochiel
Daniel Ochiel is a native of Kenya, and a graduate of the Konditi Primary School in Pap-Onditi. He earned a doctorate degree in Veterinary Medicine from the University of Nairobi and a PhD from Dartmouth Medical School. He has worked at the Harvard School of Public Health, the Columbia Global Centers and the International AIDS Vaccine Initiative. Daniel co-founded I-KODI in 2008 to serve as a platform for achieving sustainable change in the socioeconomic and health standards of his community. Daniel currently lives in Nairobi with his wife and children, and makes frequent trips to Pap-Onditi to oversee I-KODI's projects on the ground.
Mimi Ghosh
Mimi is from Calcutta, India. She received her PhD in Infectious Disease and Microbiology from the University of Pittsburgh. She met Daniel when they found themselves coincidentally working in the same research laboratory, and they connected again at Dartmouth Medical School. Inspired by Daniel's determination to make a difference in the lives of primary school children in Pap-Onditi, Mimi joined him in founding I-KODI in 2008. Currently, she serves on the I-KODI USA board and conducts research at The George Washington University. Mimi lives in Washington, DC with her husband.
Ruth Connor
Ruth received her PhD in Medical Microbiology and Immunology from Ohio State University, and worked for ten years at the  Aaron Diamond AIDS Research Center in New York City. She later joined the faculty at Dartmouth Medical School, where she first met Daniel and Mimi. Convinced that a small group of dedicated people can make a real and lasting difference, she joined I-KODI USA as a board member in 2009. Ruth is an avid photographer and recently returned from a trip to Pap-Onditi, where she helped document I-KODI projects and the people living in the village. She lives in Vermont with her husband and two children.
Lucy Rudo Mukura
Lucy is from Harare, Zimbabwe.  In 2013, she graduated from Dartmouth Medical School with a PhD in Experimental and Molecular Medicine. While at Dartmouth, she shared a laboratory with Daniel and Mimi, and subsequently joined the I-KODI board. Lucy is passionate about empowering women. One of her goals is to keep girls in school, have them graduate, and subsequently improve the lives of their families and communities. Lucy lives in Nairobi with her husband and four children.
Mary Durand
Mary is from Lebanon, New Hampshire. She recently retired from a long career as Department Manager in the Department of Physiology and Neurobiology at Dartmouth Medical School. She joined the I-KODI board in 2011 after being actively involved in I-KODI fundraising activities for many years. She currently hosts and cooks for a very popular African Lunch fundraiser each month with all proceeds going to support I-KODI's programs. Her enthusiasm for children's education, both in and outside the classroom, ensures that I-KODI remains focused on increasing student enrollment and retention at the Konditi Primary School. Mary lives in New Hampshire with her husband.
I-KODI KENYA
Paul Barrack Ouma
Barrack is the coordinator of I-KODI projects in Kenya. He previously served as the Principal of Konditi Primary School for a period of six years. Currently, he is the Principal of Nyabola Primary School situated approximately 5 kilometers from Konditi School. By virtue of his previous and current position as a senior school administrator, Barrack possesses valuable experience in project management. He has been instrumental in ensuring administrative oversight, financial accountability and efficiency of I-KODI projects in Kenya.
Hippolitus Owiti Obunga
Hippolitus is the chairman of the I-KODI team in Kenya. He is a retired Principal of Thurdibuoro High School located approximately 10 kilometers from Konditi School. He has had a stellar career in teaching spanning over 30 years, with an impressive track record of academic performance. He is a role model for several students in the community. Hippolitus has also served as the Executive Secretary of the Nyakach Constituency Development Fund (CDF), a Kenyan Government agency, where he was responsible for disbursement of funds to support local community development. Hippolitus is a key resource person for I-KODI, and plays a significant role in engaging the community so that I-KODI goals can be implemented.
Anjeline Omondi
Anjeline is the I-KODI coordinator for women affairs in Kenya. She oversees female centered projects including our micro-lending project, support of AIDS widows and orphans, and the sanitary pad project at Konditi Primary School. Anjeline is passionate about community development and has worked with I-KODI for 5 years. She is an active member of the community and is responsible for updating the I-KODI team in Kenya on projects that are focused on girls and women.
Rosalind Owino
Rosalind is a resident of Pap-Onditi and has served on the I-KODI Kenyan board for over 6 years. She is an active member of the I-KODI team and a representative for several local women's groups. She helps coordinate women's activities in the area.
Additional I-KODI Kenyan Board Members (not pictured):
Kenneth Mboya (District Chief)
Mary Njoge (Kanda Area Representative)
Beatrice Ojwang (Microfinance Representative)
Dennis Tola (Hospital Representative)
Leonard Obunga
Florence Obunga